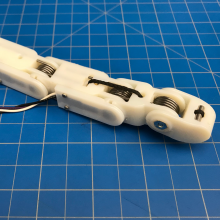 While optical and magnetic motion capture are powerful tools used in the MAHI Lab to investigate anatomical motion, there are limitations, in particular, for wearable devices for the hand. Adding to work on open-source designs started in the ReNeu Lab at University of Texas at Austin, an instrumented finger has been developed. This modular finger is compatible with soft or semi-soft hand devices such as the Assistive Glove Exoskeleton, with anthopometric sizing of links and joints. This version of the finger uses two KMA210 linear angle sensors from NXP Semiconductors and neodymium ring magnets to approximate metacarpal phalangeal (MCP) and proximal interphalangeal (PIP) joint angles, approximated as pin joints. The PIP and distal interphalangeal (DIP) joints are coupled via a bio-inspired kevlar tendon.
The angular sensors are high resolution, linear measurements of MCP and PIP joint angles. 

The materials for the UT hand are hosted here, "UT_ReNeu_Archive.zip" along with the BOM, Solidworks CAD, and a brief 'readme.doc' on future design directions and assembly instructions for the new glove-compatible version in "Rice_Archive.zip".