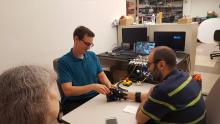 To investigate the 'human' side of human-robot interactions, the MAHI Lab is looking to collaborators beyond engineering disciplines to improve the work we do. With Dr. Marcia Brennan in the Department of Religion, we are making connections to the deeply personal nature of injury, impairment, and rehabilitation to better understand the participants in our studies. Working as a literary artist, Dr. Brennan invites people to reflect on their life experiences, and images will often arise—not only of struggle, hardship, and debility—but of strength, hope, meaning, and inspiration. She records people's words verbatim and arranges their phrases into successive lines that resemble poetry. These moving poetic narratives provide a unique source of insight into the human dimensions and subtle themes associated with a Rehabilitation Medicine population—and thus, with people who, one day, may benefit from the robotic therapies being designed and developed in this lab. Dr. Brennan's method of communicating participants' deeply personal experiences creates an experimental environment which engages our participants in ways that our rehabilitation regimens cannot, while providing us, as researchers, with insights into disability and motor function described as only our participants can. 
Through Rice University's InterDepartmental Excellence Award, we are pursuing research "Towards Experience-Guided Design of Effective Assistive Devices", a collaboration between the MAHI Lab, Dr. Zoë Wool in Department of Anthropology, and Dr. Phil Kortum in the Department of Psychology. Questions about the adoption of a device extend beyond robotic design and often hinge on the usability (Hocking, 1999) of a device beyond ergonomic and usability considerations, and are at the intersection of how users see themselves, their device, and the connection between the two. An ethnographic approach to these perspectives can illuminate not only important facets of disability viewpoints in modern culture, but also how the user perspective can be incorporated into the design process. Developing devices for assistance or rehabilitation requires an interdisciplinary perspective integrating robotics, and the humanities. The assistive glove exoskeleton project is being used as a first case study for this project. 
Selected Readings and References:
- Brennan, M. "Life at the End of Life: Finding Words Beyond Words" Bristol, U.K.: Intellect Books and the University of Chicago Press, 2017. 
- Kortum, P. T., and A. Bangor. "Usability ratings for everyday products measured with the System Usability Scale." Intl. J. of Human-Computer Interaction 29.2 (2013): 67-76.
- Wool, Zoë H. "After War: The Weight of Life at Walter Reed." Duke University Press, 2015. 
- Hocking, Clare. "Function or feelings: factors in abandonment of assistive devices." Technology and Disability 11.1, 2 (1999): 3-11.