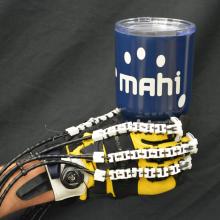 Despite quantifiable gains in motor function as a result of intensive upper limb rehabilitation using robotic 
devices, individuals with incomplete spinal cord injury (SCI) still desire increased independence that 
requires improved hand function. We have designed a soft robotic glove that can assist in activities of 
daily living (ADL). The soft, flexible glove has cable-like tendons that run along the fingers on both the 
palm and back of hand. Motors that are controlled to synchronously pull these tendons are used to 
achieve several coordinated grasp poses that are shown to support most ADLs, increasing independence 
and function of the wearer. Regaining the ability to perform functional tasks not only improves quality of 
life, but may have beneficial implications for improving the efficacy of rehabilitation interventions. The 
glove assists the participant in performing functional tasks which encourage greater involvement in 
therapy. 
Investigations of the role of the assistive glove in upper extremity function and reaching will 
focus on the potential for the device to increase the quantity and quality of use of the unassisted upper 
extremity joints when performing tasks.
Latest glove design includes updated actuator housings, designed to reduce friction and tendon wear.